Horizon Europe key facts
Programme duration: 2021-2027
Related bodies: Creation of the European Innovation Council
Budget: 100 billion of euro
Main programme pillars:

Open science
Global Challenges and Industrial Competitiveness
Open Innovation

Targeted clusters:

Health
Inclusive and Secure Society
Digital and Industry
Climate, Energy and Mobility
Food and natural resources

New approach: simpler regulations and less administrative formalities
Closer collaboration with other EU programmes, such as the European Defence Fund, Digital Europe programme and Connecting Europe Facility Digital.
Horizon 2020 and Horizon Europe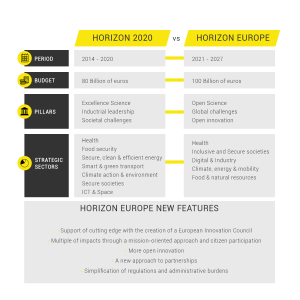 Horizon Europe is a highly anticipated programme. However, the European Commission is adding various improvements that will set the programme ahead of its predecessor.
Before its start, the programme has already caused controversy, as the unprecedentedly high budget calls for cuts to agriculture and cohesion funding by 5%. Furthermore, the Commission wants judicial independence for the new programme.
New features
Support of the cutting-edge innovation with the creation of a European Innovation Council
Multiplication of impact through a mission-oriented approach and citizen participation
More open innovation
A new approach to partnerships
Simplification of regulations and reduction of administrative constraints
Discover all the latest Horizon Europe news. If you have questions, or if you need additional information, our consultants are at your disposal to guide you throughout the implementation of this new European funding programme.