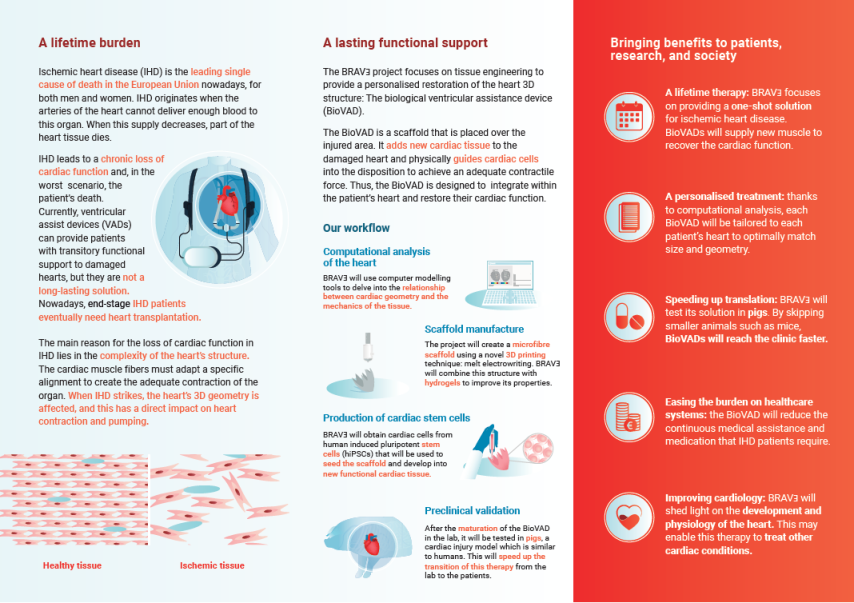 The BRAVꓱ project aims to develop a regenerative treatment for ischemic heart disease (IHD): an innovative biological ventricular assist device (BioVAD). It is a scaffold that is disposed over the injured area and helps the cardiac cells to make the contraction force needed for an adequate pumping. BRAVꓱ will develop a tailored structure that will be seeded with human induced pluripotent stem cells (hiPSCs), creating cardiac tissue that will be integrated in the patient's heart.
This approach aims to replace current ventricular assist devices (VADs) to provide temporal functional support to damaged hearts but can't replace the function of the lost cardiac muscle.
As IHD is the leading single cause of death in the European Union, this approach aims to improve the patient's quality of life with a single intervention.
The project gathers partners from different disciplines with the goal of bringing the medical advances close to the bedside in the shortest time possible. With this in mind, the BioVAD will be tested in pigs, as the heart of this animal model is the most similar to the human one.
BravE | Coordinator and partner
Universidad de Navarra (coordinator)

Universidad de Zaragoza

EBERS Medical Technology SL
Servicio Madrileño de Salud SERMAS
PNO Innovation S.L.,
Leartiker
Institute for Bioengineering of Catalonia IBEC
Eindhoven University of Technology TU/e
University Medical Center Utrecht UMCU
AE Medicalis

Katholieke Universiteit Leuven

Universitätsklinikum Würzburg

iBET
Boston Scientific Ltd BSL
Would you like to find out more about the BravE project? Are you interested in EU funding? Would you like to join an EU project or initiate your own project? Get in touch with our EU funding and innovation experts. 
BravE has received funding from the European Union's Horizon 2020 research and innovation programme under grant agreement No 874827.