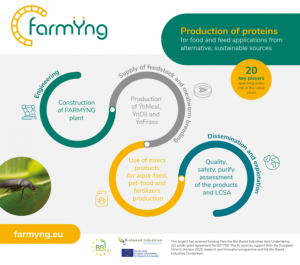 Coordinated by Ÿnsect, the FARMŸNG project has the ambition to develop, on an industrial and automated scale, the breeding and transformation of insects for the production of ingredients, with the strong participation of 20 key actors all along the value chain, from the feedstock supply to the final insect transformation.
The FARMŸNG project will demonstrate a large-scale, first-of-its-kind bio-based value chain producing sustainable, safe and premium feed products from an innovative origin: the Tenebrio molitor insect (mealworm). The plant developed for FARMŸNG will exploit the physiological capabilities of mealworms physiology to efficiently convert vegetal by-products in mealworm biomass and will transform those mealworms into sustainable proteins and lipids for fish feed and pet food end markets. In parallel, manure will be recovered for soil fertilization applications.
Insects are indeed very effective at converting organic matter. Fed with no-noble materials, insects multiply quickly, and are a rich and natural source of food for certain livestock and pet animals, and probably ultimately for the Humans directly. Insects also emit less greenhouse gases and ammonia and use less water and land than other animal proteins value chains.
FARMŸNG project, responding to the increasing worldwide proteins demand, will transfer the technology from a demo plant to the Industrial Flagship Plant able to produce almost 1 500 tons of proteins and 400 tons of oil per month, reaching production rate that has never been achieved by any other insect-protein production plant in the world.
Farmyng | Coordinator and partners
Ynsect (Coordinator)
Chamtor S.A.
Star Food Holland B.V.
Walloon Agricultural Research Center
Eurofins Analytics France
Quantis Sàrl
PNO Consultants SAS
Skretting Aquaculture Research Centre AS
VIRBAC NUTRITION SAS
Cluster Industrielle Biotechnologie 2021 e.V.
Stowarzyszenie Zachodniopomorski Klaster Chemiczny "Zielona Chemia"
Association Industries et Agroressources (IAR)
AJINOMOTO ANIMAL NUTRITION EUROPE
MG 2 MIX
MIGUEL TORRES, S.A.
TGC EXTRUSION SARL
Commissariat Energie Atomique et aux Energies Alternatives (CEA)
ULMA Manutencion S. Coop.
Clextral
COMPO France SAS
Would you like to find out more about the FARMŸNG project? Are you interested in EU funding? Would you like to join an EU project or initiate your own project? Get in touch with our EU funding and innovation experts. 
This project has received funding from the European Union's Horizon 2020 research and innovation programme under grant agreement No 837750.