The BioLinX project supports organisations with projects in the 7th Framework Programme (FP7) and Horizon 2020 (H2020) to commercialise their innovative ideas. The project also connects these organisations to markets and regional networks. In that way, BioLinX aims to bridge research and innovation efforts in the bioeconomy sector. PNO Consultants is tasked with scouting and intake of partners, analysing stakeholders and the overall incubation process.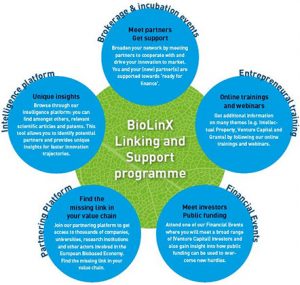 Overview of the BioLinX project
BioLinX will bridge research and innovation efforts in the bioeconomy by building three large clusters in Europe. Within these clusters, a range of powerful linking and innovation acceleration processes will be initiated. BioLinX is a partnership between organisations from the Netherlands, Belgium (Flanders), the Nordic Countries and Northern Italy, which are leaders in bioeconomy and in the lignocellulose, agro- and agro-waste feedstock sectors. The partners are all pioneers of systematic innovation management and cluster acceleration practices. Between them, they have leading roles in over 45 current or recent collaborative bioeconomy projects. From this strong starting point, they will select sixty or more FP7 and Horizon 2020 bio-based projects from all stages of the value chain. These will form the BioLinX clusters. Among them, brokerage, collaborative innovation and business acceleration dynamics will be developed.
Objectives of the project: clustering bioeconomy
The project will select and scout more than 60 high potential bioeconomy projects.
The project will develop a network of key regional bioeconomy clusters (RIS3 regions or equivalent) covering three geographical regions (north, central and south).
The project will analyse, cluster and focus selected FP7 and H2020 projects, as well as the network of RIS3 bioeconomy regions.
The project will implement the Innovation Linking and Support Programme, consisting of activities focusing on:

brokerage and innovation incubation
business development
finance and funding
identifying and sharing good practices
advocacy, communication and dissemination.
Our involvement in the BioLinX project
Our main task within the project is to lead the scouting, intake and selection of FP7 and H2020 research and innovation activities task.
We also support in analysing the European Innovation System, and perform value chain stakeholder analyses of a European network of RIS3 regions. We help define and plan the innovation through technology intelligence, market analysis and stakeholder analysis, through building innovative partnerships and networks, and through joining promising project ideas.
We are responsible for the overall incubation process. We maximise the impact of innovation projects by building user communities and dissemination networks.
We help develop and finance innovation projects through grant scans and analysis, project concept development and consortium building, and writing of grant applications.
Stay updated via Twitter.