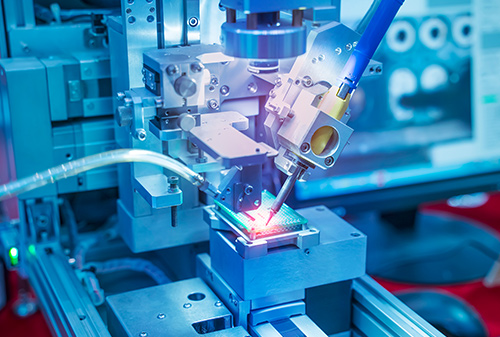 Dates:
Competition closes: 29th March 2023, 11am
Applicants notified: 17th May 2023
Project start date & duration: 1st August 2023 for up to 12-18 months
Scope
The aim of this competition is to create and deliver course content and materials that will support skills, talent and training across semiconductor manufacturing and supply chain. This is to build awareness of semiconductor manufacturing and application, filling key gaps in the UK's workforce talent and training capabilities. Your project must demonstrate:
strong industrial links and a well defined industry focus
an understanding and awareness of semiconductor industrial skills that are currently lacking and any future requirements to enable the workforce
an innovative, ambitious, and realistic idea to meet a significant semiconductor skills or talent requirement
planning for, and commitment to, creating and maintaining the resource on an ongoing basis for a minimum period of 3 years after the funded project completion
that you will provide new training opportunities or skill resources not already available in the UK, a region or for a group of underrepresented people
that it has the capacity and capability to be delivered successfully and on time
value for money and evidence a return on investment, in terms of trained, upskilled and reskilled people
Specific Themes
defining and filling key skills gaps in the UK's semiconductor manufacturing, research and supply chain workforce
producing industry compatible training programs
promoting skills in design for manufacture and assembly
increasing interaction between academia or training establishments and industry to ensure skills streams for the future, including, apprenticeships, internships or sandwich courses
delivering courses or practical training areas for example schools engagement, upskilling and reskilling of existing workforce, technical courses and vocational training, undergraduate, postgraduate and continuing professional development (CPD)
improving the quality and capacity of existing training delivery
outreach and engagement material focusing on semiconductors for all ages and levels in academia and industry
supporting and promoting equality, diversity, and inclusion within semiconductor technology training, manufacturing, or research
providing training or incentives for training to specific underrepresented groups of people or in specific training subjects
Eligibility
To lead you must be: Any type of UK organisation; demonstrate clear industrial support for your application, covering a cross section of technologies and sectors; work in, or have strong industrial ties with the UK semiconductor industry sector
Funding Rates
Total eligible project costs up to £500,000 (£5M pot).
up to 70% if you are a micro or small organisation
up to 60% if you are a medium-sized organisation
up to 50% if you are a large organisation
How PNO can support you
The UK team has a strong track record in securing some of the most competitive national and European grants on behalf of its clients, with a full understanding of how a project should be presented to stand the highest chance of success. Each year in the UK alone, we are responsible for the submission of more than 100 funding applications across all sectors and priority areas. Based on this extensive experience, through careful project selection and using key insight into how a project should be best positioned, we consistently achieve success rates that are more than 5 times the typical success rates for UK national schemes and EU programmes.
For further information or to discuss a project idea please contact PNO Consultants
0161 488 3488 | info.uk@pnoconsultants.com