In the end of January 2021, the EU co-legislators succeeded to reach a political agreement on the new EIT legislative package, consisting of the EIT Regulation and the EIT Strategic Innovation Agenda (SIA) 2021-2027. The new EIT strategic framework has been designed to create more synergies and help deliver solutions to the most pressing challenges facing society.
With lessons learned from Horizon 2020, the new EIT's legislative package has introduced several important changes: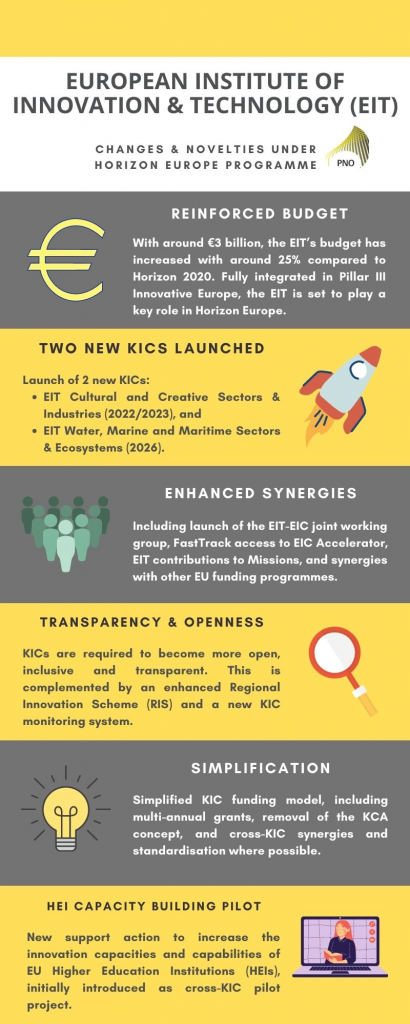 1. Reinforced budget: Budget increase of 25%
With a budget of approximately EUR 3 billion earmarked for 2021-2027, the EIT is receiving a budget increase of almost 25% compared to the previous programme period under Horizon 2020.
Over the course of Horizon Europe, the EIT aims to leverage this budget to:
Enable 750 higher education institutions to become more innovative
Support 30,000 entrepreneurial students
Introduce 4,000 innovations to the market
Power 700 start-ups
2. Launch of two new KICs
In addition to its 8 existing KICs, EIT will launch 2 new KICs:
A first one, EIT Culture & Creativity, with call deadline in 2022 and launch in 2023.
The second KIC, dedicated to Water, Marine & Maritime Sectors and Ecosystems, would be initiated in 2026, considering the timeline of Horizon Europe's strategic planning process.
Simultaneously, the EIT will explore new ways to cooperate with its first wave of KICs (InnoEnergy, Climate and Digital), as their 15-year Framework Partnership Agreement funding cycles will come to an end in 2024.
3. Generating enhanced synergies
As one of the core components of Pillar III 'Innovative Europe', the EIT is expected to generate strong synergies with the whole Horizon Europe programme. First and foremost, it will actively work together with the European Innovation Council (EIC), with which it shares the common objective to support innovative start-ups and SMEs. This enhanced cooperation was recently formalised in an EIT-EIC Memorandum of Understanding, which includes the mention of a joint working group, 'FastTrack' access to the EIC Accelerator (for EIT-backed start-ups/SMEs), and the possibility of EIT-EIC co-investments. In addition, the EIT will seek to create complementarities with other parts of Horizon Europe (e.g. Missions linked to KIC domains), as well as with other EU funding instruments, such as the Cohesion Policy Funds, InvestEU and the new Digital Europe Programme (DEP).
4. Transparency & openness of the KICs
In alignment with the new European Partnerships approach introduced under Horizon Europe, the KICs will be reinforcing their openness, transparency and inclusiveness. This will, for instance, be achieved by guaranteeing transparent membership conditions, by publishing calls on the Funding & Tenders Portal, and by ensuring the public availability of project statistics. Furthermore, KICs will have to strengthen their existing Regional Innovation Scheme (RIS) strategy, which provides targeted support to countries with lower innovation capacity. These measures will be accompanied by an enhanced monitoring and evaluation system, closely assessing each KIC's performance, financial sustainability, and openness to new members.
5. Simplification of the KIC funding model
A simplified performance-based KIC funding model will be introduced. This will comprise of, among others, the introduction of multi-annual grants, the removal of the KIC Complementary Activities (KCA) concept, and the implementation of cross-KIC standardisation and synergies, where possible (e.g. IT tools, templates, cross-KIC calls).
6. Boosting the innovation capacity of higher education
The EIT has introduced a new support action to increase the innovation capacities and capabilities of European Higher Education Institutions (HEIs). The novel HEI Innovation Capacity Building Initiative is initially being introduced as a pilot in the form of a cross-KIC action. With the overall goal of supporting HEIs towards stronger integration into innovation ecosystems, the EIT will build on successful policy initiatives such as HEInnovate, an innovation self-assessment tool, and the Regional Innovation Impact Assessment Framework.
Horizon 2020: Lessons learnt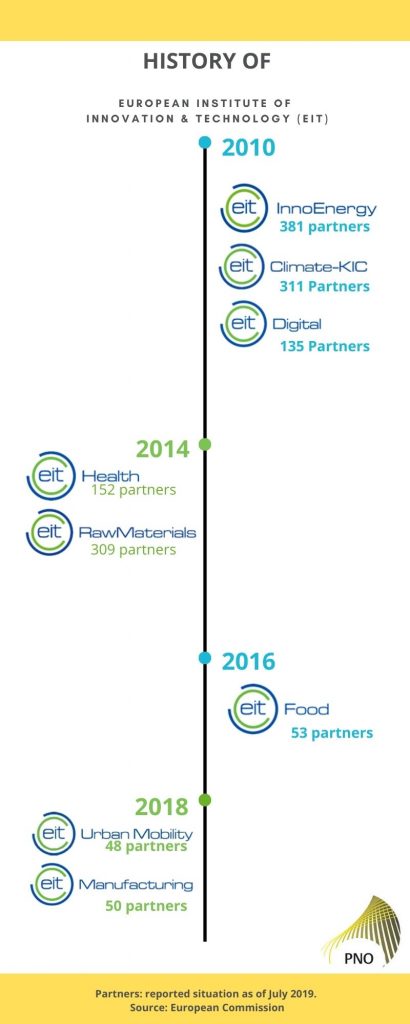 Over the past years, the EIT successfully created a truly European innovation ecosystem  with over 1.200 partners from business, research and education. This has resulted in a number of impressive outcomes, such as the launch of over 600 new products and services in the market, over 1.250 start-ups & innovative ventures supported, and approximately 1.700 students graduating from EIT labelled master courses.
However, the KIC model has not been without its critics. A Special Report (2016) by the European Court of Auditors (ECA) identified several areas for potential improvements, including EIT's rather complex operational framework, suboptimal transparency and a challenging funding model aimed at long-term financial sustainability.
Background: the EIT KIC funding model
The EIT, located in Budapest, was created in 2008 as an independent EU body. Its overall mission is to boost economic growth and job creation by improving the EU's innovation capacity and fostering cooperation. While originally set up outside the scope of the 7th Framework Programme (FP7), the EIT later became an integral part of Horizon 2020.
The EIT primarily operates through so-called Knowledge and Innovation Communities (KICs). These are large-scale partnerships uniting key stakeholders of the Knowledge Triangle (business, education and research). Each KIC is selected by EIT through an open call and operates through a network of Co-Location Centres (CLCs) across Europe. Since 2010, the EIT has launched eight of such KICs, each of them focusing on a different societal challenge.
Rely on PNO to support your EIT application!
PNO is a market leader in Europe in grants and innovation advice. We have more than 30 years of experience in helping business like yours to secure national and European funding and investments, with more than 2000+ supported organisations in innovation projects and 4000 research clients and partners. We help you to:
Match your idea with the right funding opportunity
Develop a competitive grant application
Ensure effective project management
We closely follow the developments within Horizon Europe and inform you as soon as new developments occur. With almost 1000 projects submitted and a success rate of more than twice the market average in Horizon 2020, we are glad to be of service again in the Horizon Europe programme.
Are you looking for support to identify the right EIT funding opportunity or develop an EIT application? Our specialists would be pleased to advise you on the possibilities for your organisation and support you in writing a successful proposal!
Contact our experts directly at +32 2 613 31 10
or send us a message: info.be@pnoconsultants.com