Autoship – Autonomous Shipping Initiative for European Waters – aims at speeding-up the transition towards a next generation of autonomous ships in EU, by building and operating 2 different autonomous vessels, demonstrating their operative capabilities in Short Sea Shipping and Inland Water Ways scenarios, with a focus on goods mobility.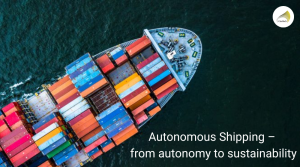 In the latest article published by the project coordinator, Marco Molica Colella from CiaoTech (PNO Group) looks at the autonomous shipping industry and the journey it will take to improve its sustainability.
In this publication, released in the latest issue of the Open Access Government journal, the Stakeholder and Market analyses, in a Cost-Benefit-Analysis for autonomous vessel use cases and in shaping the project business and exploitation plans, facilitating communication and outreach are explained.
Want to discover how CiaoTech can support you in the development of R&D projects on logistics and transport?
Contact us at infociaotech@ciaotech.com