In the frame of the 
ENTRANCE project
, the CiaoTech PNO R&D Advisory team conducted a 
market analysis
 on 
innovative solutions for Medium- and Heavy-duty Zero-Emission Vehicles for Road Freight Transport.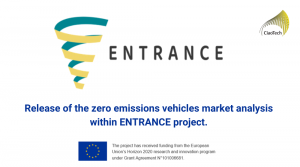 In the online event, PNO's analyst Antonio Invito shared the summary of the market analysis performed including 128 models of BE and FCE vans and trucks.
The list of models and further information is available at ENTRANCE-Platform in the following link: https://app.entrance-platform.eu/knowledge-hub/market-analysis.html. To access the market analysis is required to register for free on the platform.
To know more about our expertise on decarbonisation of road freight transport and how we can strategically support your organization, contact us at infociaotech@ciaotech.com