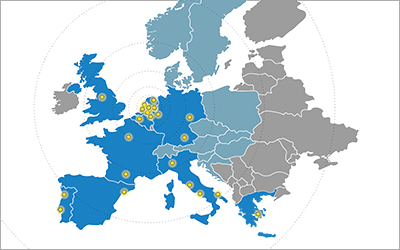 Growing need for sound advice
According to the European Innovation Scoreboard 2022, Greece is a moderate innovator with a performance that, while still below the EU average, is catching up with an increase of more than 24% (a faster pace than the EU average of 9.9%). Hence, the country's performance gap with the EU is narrowing and therefore the country is expected to have greater recourse to European innovation funding such as Horizon Europe. This leads to a growing need for sound advice from a party with extensive European expertise and experience, as well as a broad network, such as PNO Group.
High expectations
From our new office in Athens, our consultants will work to bring Greek innovative companies closer to Europe, linking them where possible to interesting international innovation projects. This of course also includes the link to European and Greek national public funds – the latter, like the National Strategic Reference Framework (NSRF) again based on European funds. Looking at the recent opening of offices in Spain and Portugal (2022) and the tremendous growth we have shown in those countries in a short time, we also have high expectations for our new operations in Greece.
About PNO Group
With offices in Belgium, France, Germany, Italy, the Netherlands, Portugal, Spain, the United Kingdom and now also in Greece, PNO Group has a solid base to offer its grants and innovation services to clients all over Europe. The group contributes to large-scale changes by assisting more than 2,000 organisations and 4,000 research clients and partners yearly. Its vast network connects stakeholders from different sectors, domains and countries, including academic organisations, research institutes, SMEs and large industries. The address of our new Greek office is 396 Mesogeion Avenue, In Agia Paraskevi, 15341 Attica, Athens.
For questions related to this article you can contact our press contact Bernard van Leeuwen at +31 6 12581984 or our board member Paolo Salvatore at +39 3474637178.