Innovation is one of the key drivers of European societies. Innovation lies at the heart of tackling all challenges, be they climate, health, security or other. So, governments, European and national, make funding available to companies, institutions and consortia that innovate. Successful innovators integrate a (public) funding as an integrated part in their RD&I strategy. We can help you do so.
Exploit public funding opportunities to boost your RD&I process
PNO offers a unique and proven approach that structurally increases your chances to obtain funding to support your Research, Development and Innovation process. Our approach builds on 30+ years of hands-on EU funding experience, proprietary big-data driven innovation intelligence tools and a vast network of top innovators. We use these assets to systematically optimize all factors key to success, resulting in RD&I projects with a proven win-rate 3 to 4 times above the market average. We do this by: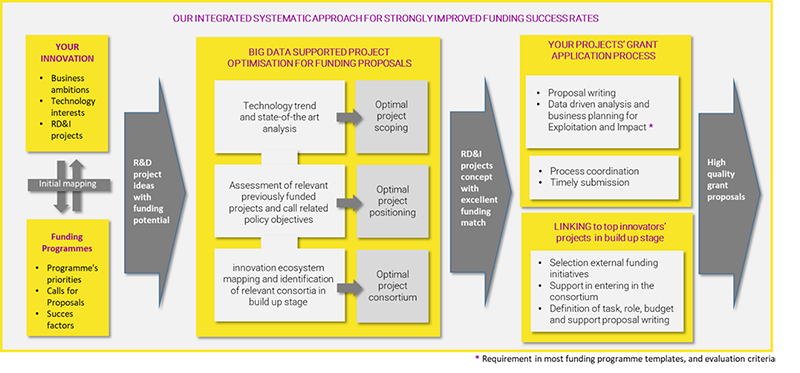 Analyzing your research ambitions, technology
Performing a technology trend and state-of-the art analysis, plus an assessment of relevant previously funded projects and call related public policy objectives to optimize your projects' sco
 interests and R&D projects objectives and making an initial match with the most value adding grant programmes.
ping and positioning. This combined with the execution of an innovation ecosystem mapping to identify, engage and commit the
strongest possible consortium partners and/or to identify and join relevant consortia in build us stage.
Link to "top innovators" projects in build up stage to improve chances of success and connect to relevant innovations unknown by client prior PNO support.
Making a final project/call selection and prepare, draft, submit and/or link to one or more high quality funding applications with an optimized chance of a grant award decision.
How can we help you?
In line with the diversity in sectors, countries, activities and types of funding, the PNO Group offers a wide range of expertise. Our 400+ professionals have extensive experience in all innovative industries, such as Energy and Climate, Life Sciences & Health, High Tech, IT, Manufacturing and so on. All that is needed to help you with the selection, application and realization of public funding. Our consultants are more than happy to take your questions, and to find out how they can be of assistance. Just take a look in the upper right corner of this website (Visit our websites) or ask your innovation consultant.