Like every engine, an innovation process needs to be greased now and then. To keep the wheels turning, so to speak. Sometimes it is the smaller wheels that have the greatest effect on the overall outcome of your innovation project. While you are working on the big story – the development of a great new idea – the grinding wheels of funding, the go-to-market plan and the continuous supply of new ideas can bring your engine to a halt. 
Keep your innovation engine running
Inspiring your ideation processes with unique data-driven intelligence and a good deal of knowledge and experience. This is how we can help you not to miss anything that you might need to successfully bring your initial idea to market and have the next one ready for development.

Ideation and structuring R&D projects
We use our proprietary data-bases with global innovation knowledge to fuel and support ideation. We do so by presenting relevant novel R&D trends, research results and patents in relation to our clients' innovation strategy. We prioritize the most promising ideas and and turn them into new R&D project concepts.
Funding impactful innovations
We use our unparalleled funding knowledge and track-record to translate funding strategies into high-quality (international) R&D partnerships, projects, and proposals with unmatched success rates.
Developing go-to-market strategies
We foster impact of our clients (funded) R&D project outputs by developing effective go-to-market strategies, using state of art tools and analysis, such as value proposition maps, (lean) business model canvas, market trend analysis and design follow-up funding strategies.
This is what it's all about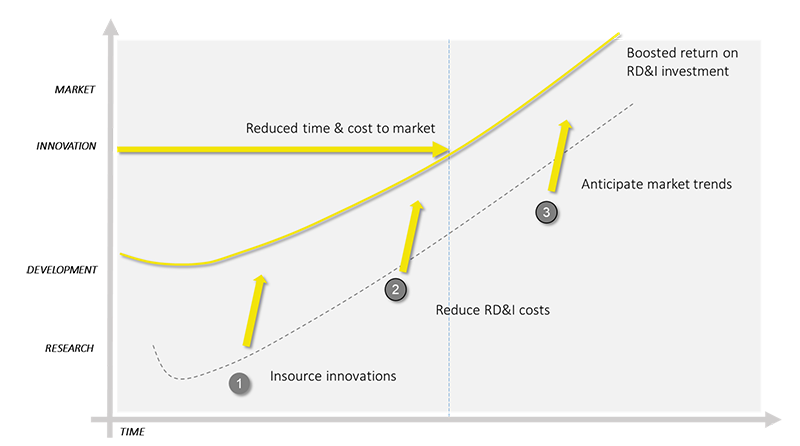 In the end, this is what it's all about. An improved innovation process, that  lowers your risks and shortens your total development time. Obviously, this is a highly simplified representation of reality. We have seen countless innovation processes and believe us, no two are the same. Our message to you is therefore: if you want to be sure that you have not overlooked anything and that your innovation processes are generating the optimum returns, discuss them with one of our experts. They will be more than happy to help you.