Are you passionate about Innovation and you want to mark a turning point in your career? Alan Kay, computer scientist, said "The best way to predict the future is to create it". Join our R&D advisory team and help us shape the future of chemistry and energy leading companies!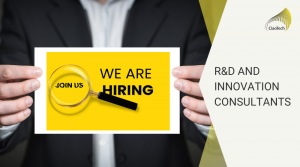 At PNO we help our clients to look forward, tap into innovation eco-systems and increase the impact of their R&D processes. Our aim is to accelerate innovation, helping to develop the sustainable solutions of the future.
We believe in R&D advisory of the future, using the latest developments in IT to support our consultants and our clients. We think our approach to R&D and innovation advise is original and unique; and yes, we want inspired colleagues that help us co-create, think innovation, look towards the future, see connections and opportunities to accelerate innovative business for our clients (and ourselves) by combining innovation intelligence, consultancy, and funding. We are looking for consultants with an entrepreneurial spirit, that want to make a difference for us, our clients and society, with a specific focus on chemistry (e.g. Process Industry, Chemicals, Gas Separation, Membranes, Nanomaterials ) and energy (e.g. Renewables, Power-to-X , Hydrogen, Storage).
What we expect, requirements
For our R&D Advisory Services team, CiaoTech (part of the PNO Group) is looking for experienced (3-5 years) R&D and Innovation consultants.
The consultants will be in charge of developing and providing strategic consultancy services in R&D and innovation, also building relationships and business opportunities with innovative industries, in order to acquire assignments. They will also implement complex and forward-looking collaborative EU R&D projects.
The ideal candidate has affinity with innovative sectors like energy and chemistry. The candidate has experience in client management– primarily industrial companies – to boost their technological R&D and innovation processes, in the acquisition of new (consulting) service agreements, and also in providing services such as technological and market analysis, innovation forecasting, road-mapping, business modelling or R&D portfolio management for supporting research and innovation. Previous experience in implementation/exploitation of EU funded projects is a plus.
What we offer
At PNO you will find:
a professional and dynamic organisation
an international working environment and extensive client portfolio
a competitive remuneration package with growth potential based on results and experience
We offer you a variety of challenges and excellent prospects within a fast-growing business where your efforts will be appreciated and rewarded. If this sounds interesting to you, we are keen to talk to you.
You may send your CV and accompanying mail, letter or video message 😉 to infociaotech@ciaotech.com  (Ref. R&D and Innovation Consultant/Chemistry – Energy).
About PNO
With offices in Belgium, France, Germany, Italy, the Netherlands, Spain, the United Kingdom and  Portugal, the PNO Group has a solid base to offer its grants, innovation and compliance services to clients from all over Europe and beyond. Through brands such as PNO Consultants, CiaoTech, EGEN, Arttic, Nehem and ttopstart the Group holds a strong position in the sectors energy, mobility & supply chain, climate & environment, aerospace, security, defence, life sciences & health, and ICT. PNO Group offers high end grants and innovation consultancy to more than 2,000 organisations and 4,000 research clients and partners yearly.