A unique overview of all Water-Oriented Living Labs (WoLLs) in Europe: that's exactly what this is. Within our "Strategic insights and analysis" services, PNO supported Water Europe to map the European eco-system of 105 Water Oriented Living Labs that contribute to  Water Europe's Water Vision "The Value of Water'. The WoLLs ATLAS provides a detailed document that will is indispensable to anyone working in the field of water management.
Water-Oriented Living Labs
Water-Oriented Living Labs (WoLLs) are defined as "real-life, water oriented and demo-type and platform-type environments with a cross-sector nexus approach, which have the involvement and commitment of multi-stakeholders (including water authorities) and a certain continuity, and provide a "field lab" to develop, test, and validate a combination of solutions as defined in the SIRA, which include technologies, their integration as well as combination with new business models and innovative policies based on the value of water. As such, they are a key tool for the implementation of Water Europe's Water Vision "The Value of Water" to promote systematic innovations in the water system that are needed to achieve a Water-Smart Society. The identification methodology included the
direct consultation of the Water Europe's Working Groups, followed by a public consultation.
Detailed and practical
To inform the use in a detailed and practical way, each Water-oriented Living Lab is characterised in several ways:
geographical scope
strategic interest Water Europe Clusters
networked value creation
who drives the initiative (market position)
technological development phase
service offerings
maturity level.
This has led to an overview in which the relevant information is presented per WoLL, for example: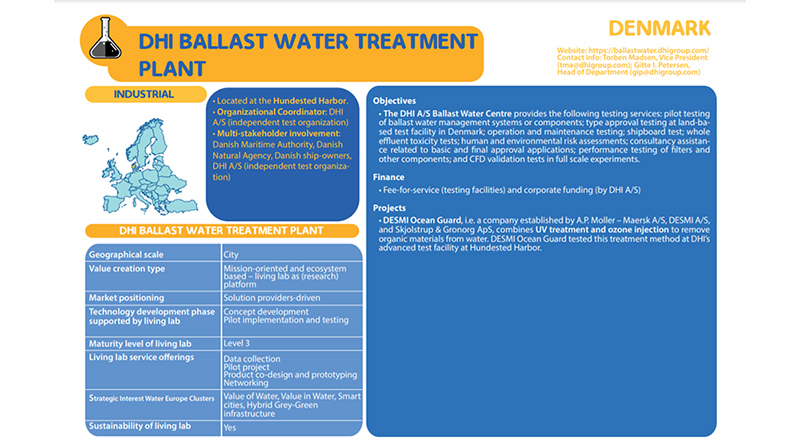 More information
You can download the Atlas here. Are you interested in the creation of the atlas, then contact one of our experts.