In the frame of the strategic support the PNO R&D Advisory Team provides to its clients through Innovation and Intelligence reports, we are proud to announce the release of the third innovation publication in a series developed on Water-oriented Living Labs for our client Water Europe.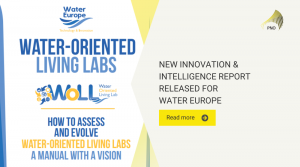 The three publications aim at providing insights on these innovation ecosystems, namely:
The third publication, just released, provides practical and provisional guidelines for the identification, assessment, and evolution of Water-Oriented Living Labs (WOLLs). Its purpose is to serve as a manual for those parties who want to drive their research and development process towards a Water-Smart Society, as defined in Water Europe's Vision, and embed their water-smart innovations in society, using the Living Labs concept. It follows the Water-Oriented Living Labs Notebook Series #1 document, titled "WOLLs – Definitions, Practices and Assessment Methods", which details the history and the state-of-the-art of the Living Lab concept, and identifies the tailored version of the Harmonization Cube as the best instrument for assessing Water-Oriented Living Labs.
The document is a follow-up in which next steps are proposed to tailor the Harmonization Method and develop a practical supporting tool for the assessment and evolution of WOLLs.
The assessment methodology and tool have not yet been fully developed in detail for the water sector but sets the base for further development in a next step, together with stakeholders from the water sector and practitioners from Living Labs.
The creation of this more advanced method and supporting tool as well as promoting the realisation of Living Labs focused specifically on realising Water Europe's Vision – that is, a network of Water Europe Living Labs (WELLs) – is in fact the subject of the next Water-Oriented Living Labs Notebook series #3 document, titled 'How to Develop a WELL. Advanced Guideline for a Water-Smart Living Lab Approach', which will be known as 'The BlueBook'.
Stay tuned to know more about our innovation & intelligence activities!