PNO innovation speaker at plenary session
Filippo Martinelli, operations manager at PNO Innovation, was a speaker at the plenary session of 6 March. He co-hosted with Philippe Mengal, Executive Director of Bio-Based Industries, and talked about the topic 'Analysis and opportunities of Public Private Partnerships and other European initiatives'.
During this plenary session, Filippo Martinelli expounded his analysis for the H2020 calls available in 2018, with a special focus on BBI JU and LIFE. As expert, he also gave some tips and tricks for successful H2020 proposals and for securing a H2020 grant.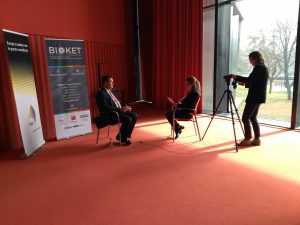 Interviewing 8 important players in bioeconomy
Of course, we had to take advantage of having a large part of the bioeconomy top available! So with the help of the BIOKET Team, PNO Innovation consultant Orsloya Foldesi interviewed 8 important actors of the bioeconomy sectors.
Philippe Mengal, Executive director of the Bio-Based Industries Joint Undertaking (BBI JU)
Pierre Monsan, founder of Toulouse White Biotechnology (TWB)
Anne Wagner, R&D Director at Tereos, elected R&D Woman of the year 2017
Ena Cratsenurg, Chief Business Officer at Gingko Bioworks
Yvan Le Henaff, president of the IAR, French Bioeconomy Cluster
Ludo Diels, Research leader at Vito
Michael Krel, partner at Sofinnova
Filippo Martinelli, operations manager at PNO Innovation
During these interviews, they told us their vision of the bioeconomy and the challenges the sector will have to face. These interviews are now available on our website!