According to Water Europe, the European Association of the Water Value Chain, water is key for society, economy and environment, 90% of the global economy depends on water – just as 75% of jobs – and will water crises be among the top five of global risks in terms of impact. So, it goes without saying that we responded with conviction to their invitation to support them with the development of a vision and R&D Roadmap for a water smart society by 2030.
The steps that we took
We structured our activities as follows:
supporting in setting-up the organizational structure (working groups) to gather relevant information on innovations required
structuring and planning of the vision and Strategic Innovation and Research Agenda (SIRA) development process
organising vision workshops methodology with key stakeholders and members from the water sector, thereby capturing main elements for the vision towards 2030.
develop the key vision concept for a future "water smart society" and discuss with key WssTP stakeholders.
in working groups further elaborate key innovation concepts 'The Value of Water', 'New digital and water technologies', 'Hybrid grey and green water infrastructure'and 'Enabling inclusive multi-stakeholder governance'
writing draft vision paper
developing a model for Strategic Innovation and Research Agenda (SIRA), organising working sessions with key stakeholders and elaborating key research and development needs, including TRLs and 3 Large Scale Integrated Living Lab Pilots (industry, Uban and Rural)
writing and editing SIRA
carrying out an extensive stakeholder mapping and characterisation of Water Oriented Living labs in Europe.
Results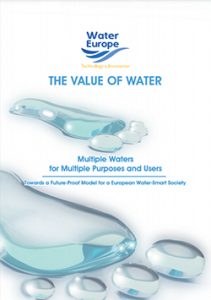 Why not see the results for yourself? Click on the image to read all about the Value of water, and how we can continue to enjoy the many benefits of water safely in the future. Inspired to read more? Check the Strategic Innovation and Research Agenda and the EU ATLAS of Water Oriented Living Labs.
Interested?
We love to tell you all about how we work and what we can do for you. If you are interested, take a look at our services or contact one of our R&D Innovation specialists.