For Hub Innovazione Trentino (HIT) we have written a white paper as part of the AlpLinkBioEco project. The paper gives an insight of facts and figures, best practices, prerequisites for SMEs to implement bio-based economy principles, an  analysis of the current size of bio-based industry within the  sectors Agriculture, Packaging for Food and Pharma and Chemistry in the Alpine Space regions. It also includes a benchmark with the overall economy within the sectors and regions.
The steps that we took
If we had to summarise this project in two words, they would be: reading and writing. Actually, this is a large part of our daily work: analysing reports, documents and technology, interpret and discuss its implications, draw conclusions and prepare an accessible and convincing paper. For the project in question and based on the mentioned analysis we:
focused on the mapping of best practices, success factors and existing resources, and we identified missing links within the VCs, allowing to generate new business opportunities within and across the regions in the alpine region and within the four relevant value chains (forestry/wood, agriculture, packaging for food/pharma and green chemistry)
identified key case-studies in the alpine regions as well as four indicators (economic, process, environmental and societal) to evaluate the case studies. We used these indicators to analyse the best practices in the four value chains and to draw conclusions about the sectors
described how 'the ideal value chain' should be structured in terms of actors and processes in the bio-based economy within these sectors and region
identified business opportunities to build new VCs.
Results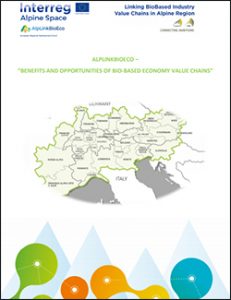 What better way to show the result of our efforts than to offer you the white paper itself? Click on the image to read the paper.
Interested?
Yes, of course we can draft such an insightful  and inspiring whitepaper for your business or sector as well! Just contact one of our R&D Innovation specialists and we are happy to inform you about how we work.