Since its launch in 1996, the MSCA programme has been the EU's main funding instrument for doctoral and postdoctoral training in Europe and worldwide. As part of Horizon Europe, the MSCA programme 2021-2027 remains a flagship tool for boosting all stages of researchers' careers as part of Pillar I 'Excellent Science'.
MSCA 2021-2027 in a nutshell
With a total budget of €6.6 billion, the MSCA programme will continue to support the mobility, training and career development of researchers through excellent doctorates, postdoctoral fellowships and collaborative projects. While the core of the programme has changed little compared to its predecessor under Horizon 2020, the EC has introduced some important novelties.
Building on H2020, the renewed MSCA programme consists of 5 'rebranded' sub-actions, known as Training & Mobility Actions (TMAs):

What are Doctoral Networks
Doctoral Networks are multi-beneficiary collaborative research and training projects (formerly known as H2020 Innovative Trainings Networks). They are aimed at recruiting and training Doctoral Candidates to develop their research-related and transferable skills. Within the overarching MSCA programme, the lion's share of the overall budget is reserved for the Doctoral Networks calls.
The funding scheme's key characteristics are:
Bottom-up programme: open to any research field, discipline & topic
Implemented by cross-sector consortia of complementary academic and non-academic partners (participation of industry is strongly recommended)
As part of the project, Doctoral Candidates (i.e. researchers not yet in possession of a doctoral degree) can be recruited for a maximum of 36 months each
International, interdisciplinary & intersectoral mobility is encouraged
Maximum project duration of 48 months
Funding model fully based on unit costs
Doctoral Networks: What is new under Horizon Europe
As one of the most popular programmes under H2020, the EC has kept many key implementation elements of the ITN programme within the Doctoral Networks. However, some noteworthy changes have been introduced:
1. Streamlining & simplification
The EC has updated the action's terminology. It aligned some terms with the rest of Horizon Europe and removed a number of (confusing) acronyms: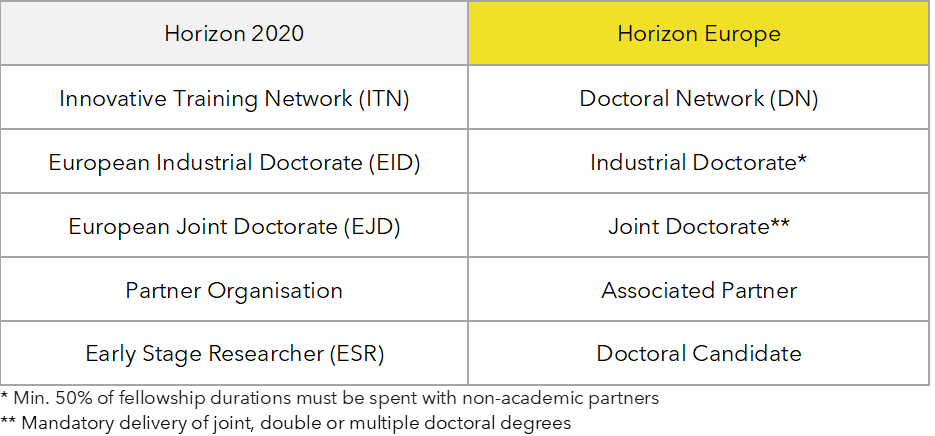 2. Smaller networks
The standard maximum number of researcher person-months (PM) has been reduced to 360 PM (from 540 PM under H2020). That corresponds to a maximum of 10 Doctoral Candidates (36 PM per researcher). However, this ceiling can be increased with 180 additional PM for Joint or Industrial Doctorates only. For Joint Doctorates, a pre-agreement on the joint, multiple or double degree must already be submitted together with the proposal.
3. Resubmission restrictions
As a highly competitive funding programme, the ITN success rates dropped to below 10% under H2020. Determined to give this success rate a boost, the EC will introduce resubmission restrictions. Starting from the 2022 call, applications which receive an evaluation score below 80% can no longer resubmit their proposal in the next call. As resubmissions counted for a considerable percentage of total ITN proposals, the success rate could increase significantly.
4. Contribution to Green Deal
While MSCA continues to be a fully bottom-up programme (i.e. no pre-defined topics or domains), the EC does introduce a number of novelties to enable a move towards a 'greener MSCA' programme. It will for instance organise thematic Green Deal project clustering events and encourage all MSCA projects to implement the principles of the novel MSCA Green Charter, a set of key sustainability principles for MSCA researchers (e.g. monitoring the project carbon footprint or minimizing the environmental impact of research activities.).
5. Updated funding model
The DN funding model largely remains untouched. The EU funding continues to be fully allocated on the basis of monthly unit contributions (fixed amounts per researcher PM – funded at 100%). Some important changes:
Researchers can now also qualify for the Family Allowance if their family status changes during the project (i.e. no longer only at time of recruitment).
Two additional (optional) Researcher Unit Costs are introduced:

Special Needs Allowance to cover additional costs of researchers with disabilities, which was previously piloted under H2020.
Long-term Leave Allowance as contribution to personnel costs incurred in case of researchers' leave longer than 30 consecutive days.

The standard amounts of several unit cost categories have been updated:

Who can apply?
Minimum 3 independent beneficiaries from 3 different EU Member States or Horizon Europe Associated Countries, with minimum one beneficiary established in an EU Member State
Beneficiaries can be from the academic sector (i.e. public/private higher education establishments, public/private non-profit research organisations, and International European Interest Organisations) and non-academic sector (all other actors, e.g. large businesses, SMEs, start-ups, NGOs,…)
An Industrial Doctorate must include min. 1 beneficiary from both the academic sector and the non-academic sector
Each beneficiary must recruit at least one Doctoral Candidate, to be hosted and supervised at their premises (secondments are possible)
Budget distribution: the '40%-rule' from H2020 is continued, i.e. maximum 40.0% of the total EU contribution can be allocated to beneficiaries located in the same country
Associated Partners (former 'Partner Organisations') can complement the consortium to provide transferable skills trainings and/or host secondments, but cannot directly receive EU funding
Horizon Europe call timeline
The annual call approach with a single proposal deadline per year will be continued in Horizon Europe. The following call timeline for Horizon Europe is proposed [to be confirmed in final Work Programme]:

Preparing a Doctoral Network? Contact PNO Innovation for support!
Looking for dedicated support with consortium building, concept development or proof-reading? PNO Innovation offers custom-made service packages to support you with developing a high-quality proposal and boost your chances of success.
As Associated Partner, PNO Innovation can provide transferable skills training, an essential part of every Doctoral Network application. We can deliver tailored competence trainings on a broad range of topics including grant application writing, identification of funding opportunities, entrepreneurship & business models, and EU project management.
Contact us for a free introductory meeting with our MSCA specialists to discuss our support possibilities for your organisation!
All information in this article is subject to any subsequent modifications in the final publication of the MSCA Work Programme.